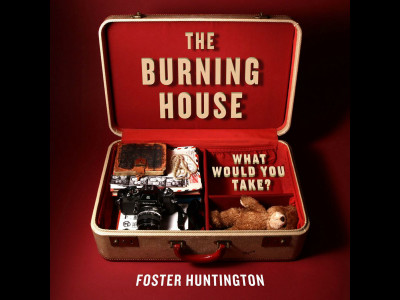 自宅で火事が発生していることに気づいたあなたは、一刻も早くそこから脱出しなければなりません。しかし、いくら命がかかっている状況とはいえ、自宅には金銭的に貴重な品々や、二度と同じ物は手に入らない思い出の写真などが数多くあり、それらを無視することはできません。あなたは究極の取捨選択を行い、なんとか両手で抱えられるだけの品々を持ち出します。さて、一体何を持ちだしたのでしょうか?

The Burning House

自宅が火事になるという極限状況下で選ぶ「自分にとって本当に大切な物」。写真家のFoster Huntingtonさんはこの質問への回答を世界中から数千も集め、その結果を「The Burning House」という写真集にまとめました。

◆もしも自宅が火事になってしまったら持ちだす物

名前: Akshay Shah
年: 27
住んでいる場所: California, USA
職業: iOS Engineer
ウェブサイト: http://about.me/akshayAshah

リスト:
White Macbook
The new iPad
Olympus E-PM1 Micro 4/3's camera
Audio-Technica ATH-M50 headphones
Field Notes
4th Gen Kindle
iPhone 4S
Wallet with Lord Ganesha's photo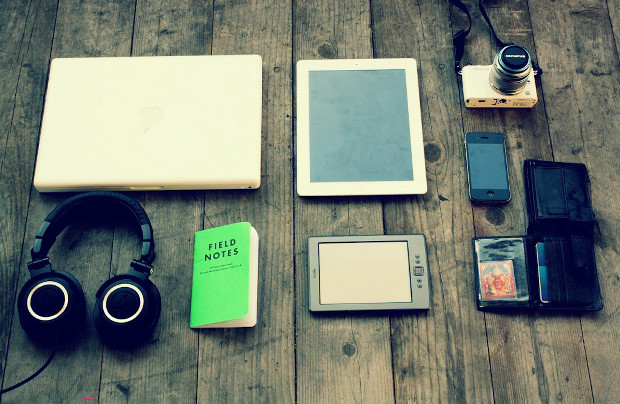 名前: Alex Carpenter
年: 24
住んでいる場所: Grand Rapids, MI
職業: Photographer/videographer
ウェブサイト: alexcarpenter.tumblr.com

リスト:
Macbook Air
Cruiser board
Blue button-up
iPhone 4
Keys
Case sod buster JR.
Wallet
Chefs knife
Carmex chapstick
Pair of black shoes with white soles
Aeropress
Bag of Madcap Coffee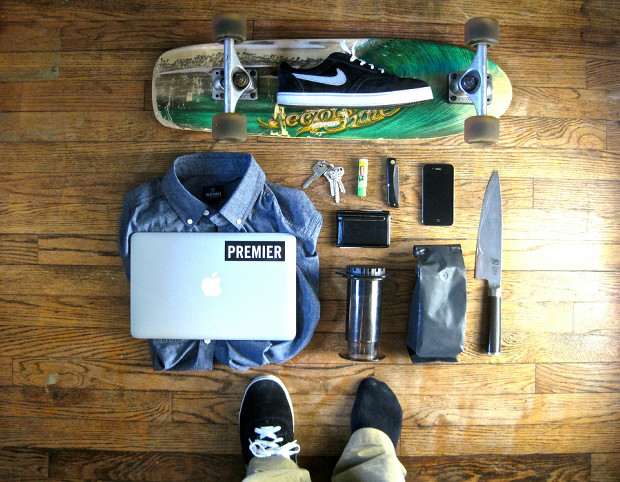 名前: Caroline Sarrette
年: 29
住んでいる場所: NYC
職業: Digital Producer
ウェブサイト: http://notsololita.wordpress.com/

リスト:
My MacBook Pro (Not in picture)
My Canon EOS 600D Camera (Not in picture)
My granny sautoire and my mum's articulated man
My sneakers
My Ray-Ban sun glasses
My Headphones to listen to music
My Kindle (In case I get bored)
My Iphone (Just for the music really)
A print of one of the picture I took
Cinema Paradiso DVD (My only DVD but what an amazing movie)
A little jewelry Delf from Amsterdam (Sentimental)
My perfume (Be ready in any circonstances)
My Roommate (not on the picture)
My Hand bag (Not on the picture)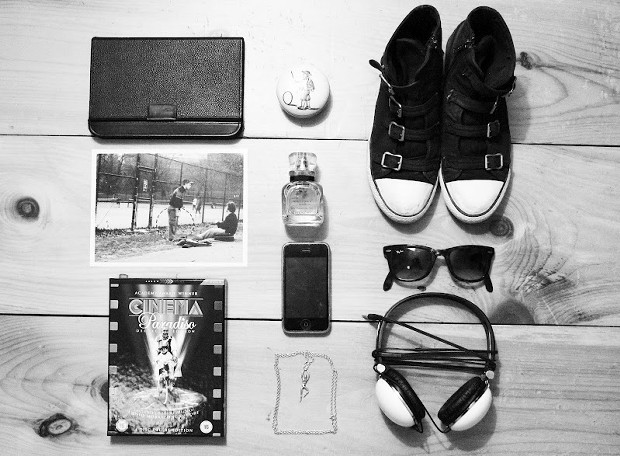 名前: Joel Pereira
年: 27
住んでいる場所: Barcelos, Portugal
職業: Student
ウェブサイト: http://amordejoel.blog.pt ; http://www.facebook.com/joel.pereira.85

リスト:
Book: "Amar de olhos abertos" - Jorge Bucay and Silvia Salinas
Book: "Oliver Twist" - Charles Dickens
Sony a33 + Tamron 18-200
Adidas PlimCana Low
Diana F+ Hong Meow
USSR FED4
iPod Classic 80gb
iPhone 3Gs
iPod Nano 6th 8gb
Headphones
Macbook Pro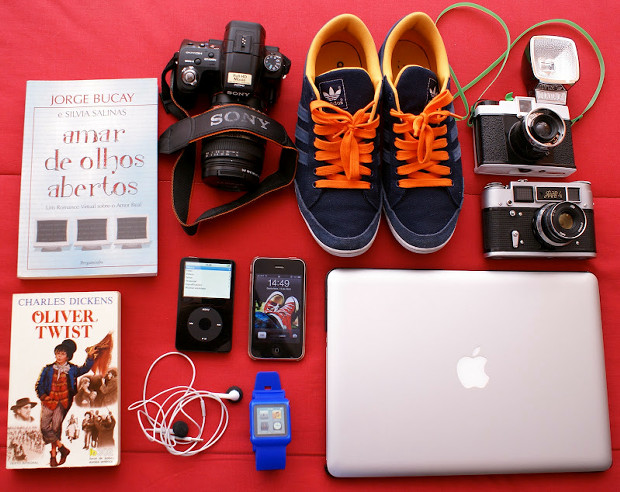 名前: Bella Persson
年: 17
住んでいる場所: Gavle, Sweden
職業: Student
ウェブサイト: http://perssonbella.blogg.se/

リスト:
First aid box
Wallet and bank card
Glasses
Pass
System cam (I know it´s a toy in the pic )
Heart from my aunt´s funeral
Mug from my great-grandmother
Lighters
Iphone and headphones
Torch
..And of course the teddy bear!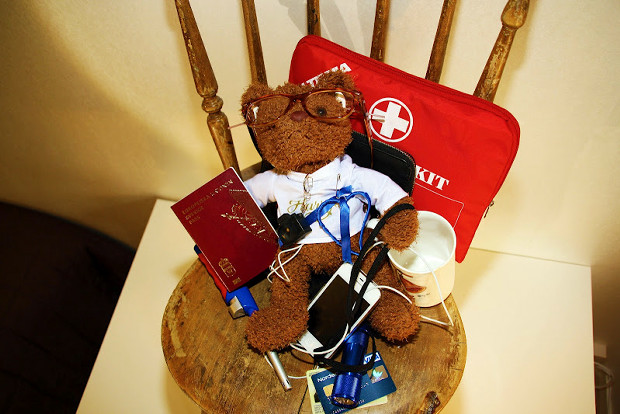 名前: Erin Joy
年: 31
住んでいる場所: Cape Town, South Africa
職業: Graphic Designer
ウェブサイト: www.bringmejoy.com / www.betweentheneonandthesea.com

リスト:
365 Days - a book of 10 years of photographs I made for my husband
My wallet
Really old comfy Converse high tops
Hard drive with a backup of all my photos and work
My favourite owl
Aboriginal opal ring from Si
My wedding ring
Venetian glass ring from A&S
My Omega watch - even though I never wear it
Roof tile photo from Chile
All the polaroids from our wedding
Rabbit
Our letterpressed wedding invitation
Wooden Matryoshka doll from my sister
Georg Jensen necklace from Si
My first magnet of the Gaudi dragon from Barcelona
2 Peruvian metal dudes
My Moleskin diaries
Mexican tiles from my 28th birthday
Macbook Pro - it's old but I still love it
Polaroid of my husband juggling fire
Polished Opal from my parents
Oaxacan metal heart
Cape Town headphones heart
Small stone box from Uruguay
Canon 5DII
My favourite green cardigan
My wedding flipflops
My husband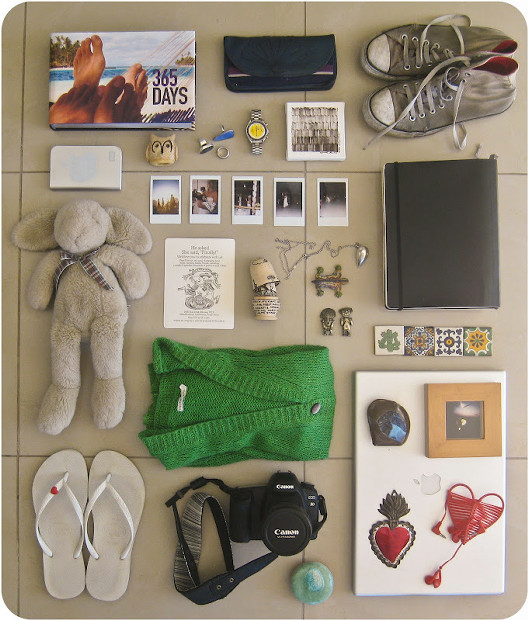 名前: James Keefe
年: 24
住んでいる場所: Los Angeles, CA
職業: Athlete / Photographer
ウェブサイト: www.JamesKeefePhotography.com

リスト:
MacBook Pro
Father's Cartier Tank Watch
Father's Engraved Gold Pinky Ring
Necklace
Rucksack Hand Made In Spain
Passport
External Hard Drive Full of Data
iPhone 4S
Fujifilm X100 Camera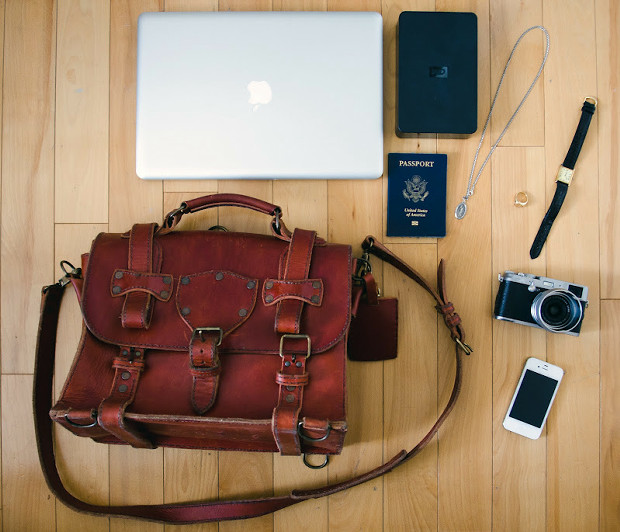 名前: Chris Hare
年: 21
住んでいる場所: Charlotte, NC
職業: Student/Photographer
ウェブサイト: flickr.com/caharephotography

リスト:
Old Encore banjo
Apple butter made by my grandfather
Ring that belonged to my grandfather
Historic Dead on vinyl, illegal bootleg pressed only once in 1970
Bitches Brew by Miles Davis on vinyl
Katamari Damacy
Be Here Now by Ram Das
External hard drive containing digital photo and music collection
Spatula that belonged to my great-grandmother
Canon Rebel T2i (not pictured)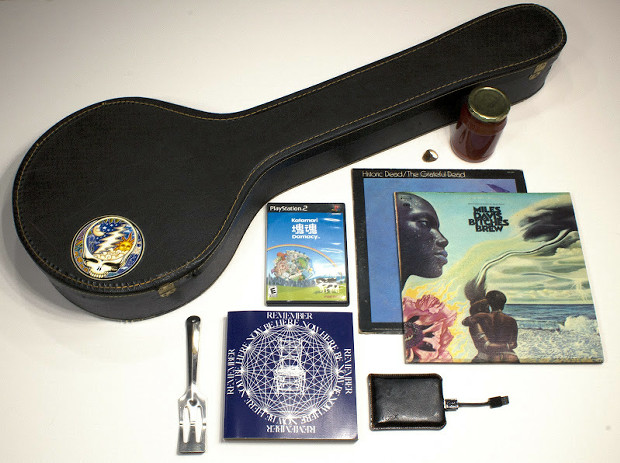 名前: Vebjorn Thiis
年: 18
住んでいる場所: Oslo, Norway
職業: Media and Communication Student
ウェブサイト: vtjp.tumblr.com

リスト:
Koskenkorva Aperitif
Tivoli radio
Matchbox
Leather belt
Holmenkollen ski trophy
Moleskine notebook
Skruf snus
iPhone
iPod
Sunglasses
Nail scissor
Keys
Arto Passilina - The Year of the Hare
Harmonicas - C, D and G
Paul Simon - Graceland
Uncle Deadly - Monkey Do
Kings of Leon - Come Around Sundown
Gorillaz - Plastic Beach
Zeiss Ikoflex TLR
Canon 500N
SMC Takumar f2 55mm
Deck of cards
Kodak Porta Pro 800 film rolls
Tuborg bottle caps
Norwegian coin collection - 1996 - 2005
Matchbox
Paco Rabanne, Million perfume
Passport
Mwear Shirt
Handmade acoustic guitar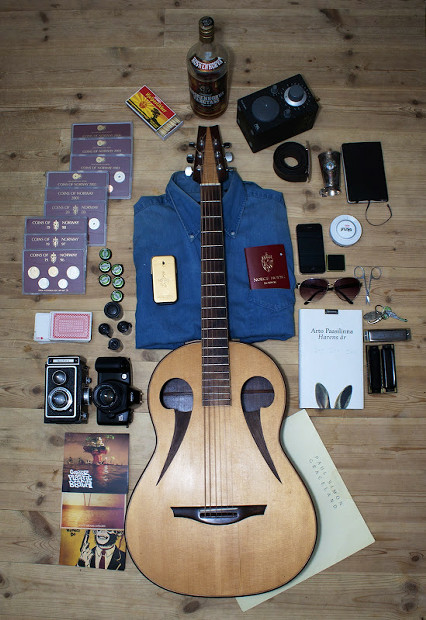 名前: Stephanie vazquez
年: 18
住んでいる場所: huntersville, North Carolina
職業: full time college student

リスト:
My childhood stuffed bunny named Miffy
Spare clothes in a bag
My favorite sweater
My camera
My external hard-drive with all my RAW files
Important documents (such as birth certificate, Car info, etc.)
iPhone charger
My favorite book ever titled "Paper Towns" by John Green! and yes, its a library book so i better return that ASAP.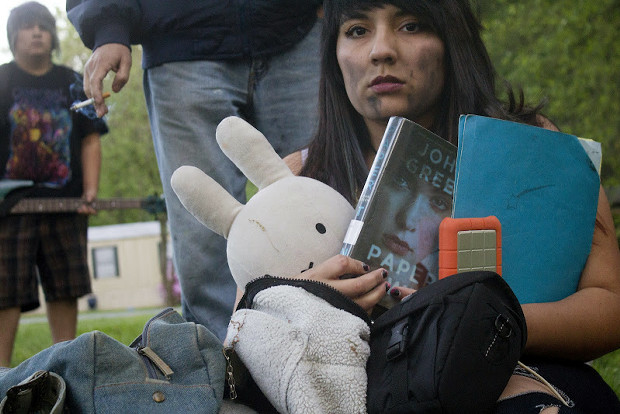 名前: Ana Maestre
年: 29
住んでいる場所: Getafe, Madrid
職業: Account Manager in a Fashion Showroom/Blogger
ウェブサイト: www.lechicroom.com and ana-m.tumblr.com

リスト:
Stripped t-shirts
My engagement ring and my everyday watch
Ukelele
Laptop
A bunch of books from when I was a kid
Camera
Handbag with ids and keys
My glasses
Notebook + pens
IPhone
My cat Pepe and my dog Brutus (in the photo)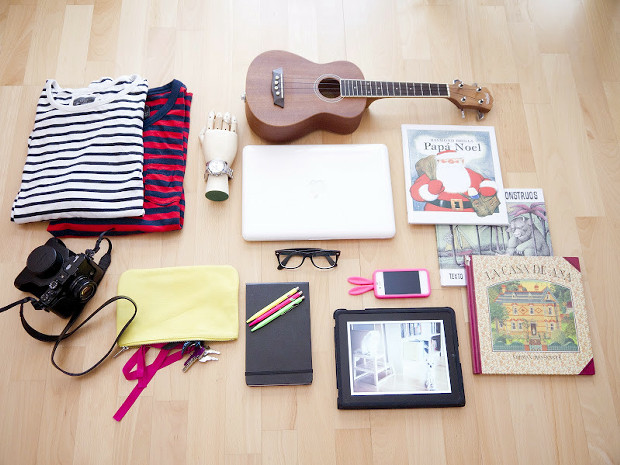 名前: Ruby Jewel
年: 24
住んでいる場所: Worcester UK
職業: Model/Illustrator
ウェブサイト: www.rubysglasseye.blogspot.co.uk

リスト:
Suitcase containing my Vintage Photograph collection, including my irreplaceable postmortem collection
Rag Doll made by my late Grandmother for my mother when she was a child
'Mr Beast' A Strange Doll My Great Aunt sent me when I was a child
Victorian False eye in its original box
1950s Paste Necklace my Dad bought me for my 21st birthday
The ring my late Grandmother wore for most of her life
Zombie Cameo my boyfriend bought me
'Sleeping Beauty' rare book about postmortem photography my Dad bought me for my 18th birthday
'Lost Hearts' handmade, Illustrated book I made for my A level art
Video of a family picnic set to music and made by my cousin in the 90s when I was about 6 years old
Diaries from my childhood and teenage years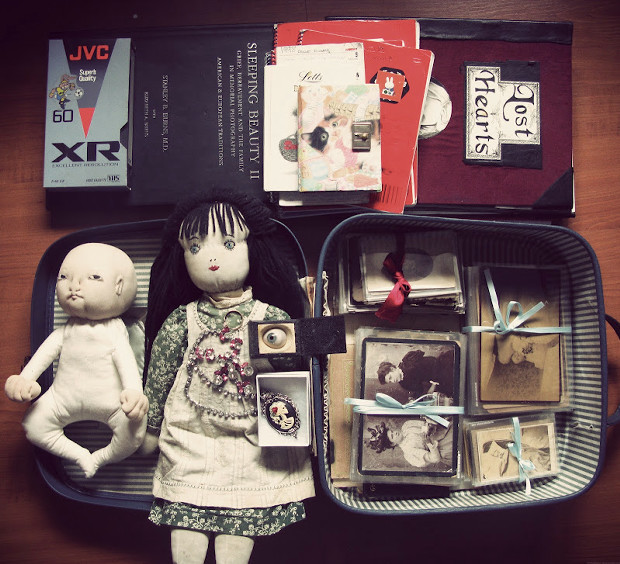 名前: Matthew Zaremba
年: 28
住んでいる場所: Cambridge, MA
職業: dotcom
ウェブサイト: MatthewZaremba.com

リスト:
Fake book containing important financial documents and mementos
Wallet
Sunglasses
Watch
External harddrive
Knife my father gave me on one of our last adventures
Leather pouch necklace containing secret items
Clay bird with note from the love of my life
Old Minolta Hi-Matic
extra lenses
DSLR (taking picture)
Laptop
Cellphone
Headphones
A few old zines I made
Cat (not pictured)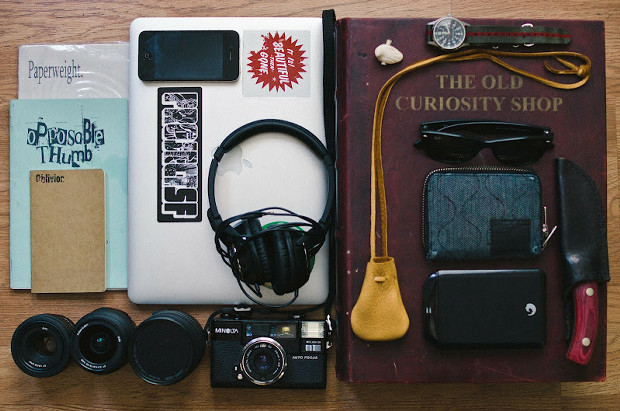 名前: Tiffany Dyer
年: 23
住んでいる場所: Charlotte
職業: Art Student

リスト:
Casper
Blue Box of memories
Hard Drive
Phone
Rosy
Canon AE - 1 (and three extra lenses)
Gus, the ukulele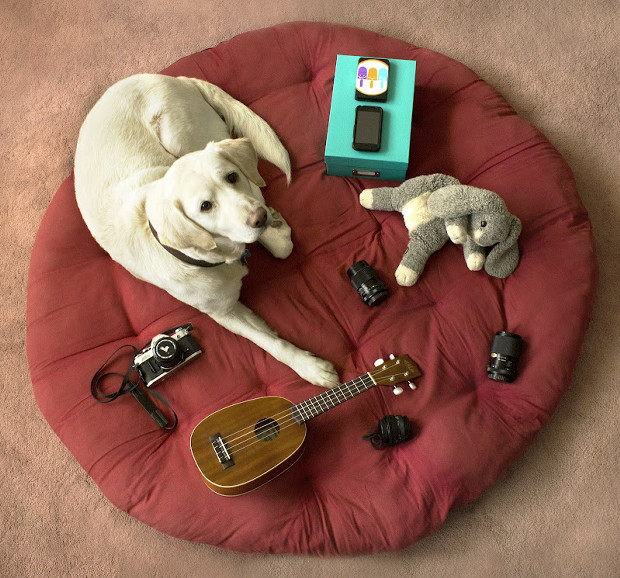 名前: Theo Sundh
年: 30
住んでいる場所: Oxford, England
職業: Publishing
ウェブサイト: www.crochetbloke.blogspot.com

リスト:
My teddy bear Mr Icy - you have stuck with me through thick and thin and I'm not going to abandon you now.
Three-layer-cake-tin, which was my nan's and is where I keep all the cakes
Watch - it was expensive and I like it.
Painting of me as a child by my mother. She would kill me if I didn't save it so no point running out of the house without it.
Gold ring - was my grandfather's. The S stands for Superman.
Sunglasses - I better have something to wear.
Basket of wool - belonged to my nan (on my mother's side) and is where I keep my next crochet projects. Yes, that's right, I crochet.
Photo of me and my awesome sisters dressed up as witches and wizards. No, we are not going to a Harry Potter convention. It's a tradition for kids to do that in Sweden around Easter.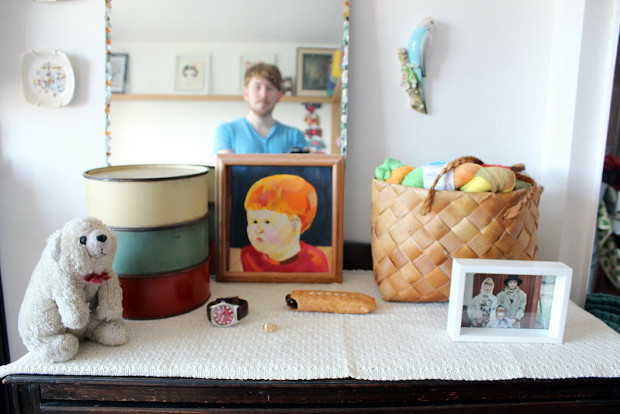 名前: Isabela Dolato
年: 16
住んでいる場所: Pirai do Sul, Parana, Brazil
職業: Student, Photographer
ウェブサイト: heey-you.tumblr.com , facebook.com/isadolato

リスト:
Old Barbie camera
Olympus waterproof camera
Sony lcd touch camera
Semi-professional sony camera
First - visit Disneyland album
Ipod touch
Iphone
I'm with you - RHCP cd
Californication - RHCP cd
Blood Sugar Sex Magic - RHCP cd
My photoshoot by Manoel Guimaraes
Ray Ban sunglasses
Jewelry
All star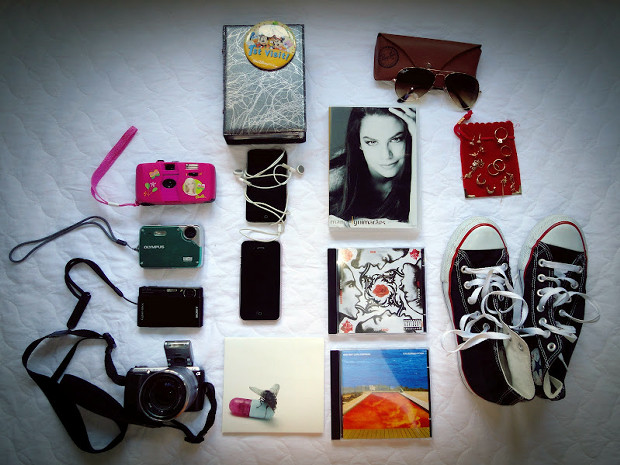 名前: Christina 'Kiki' Leibig
年: 31
住んでいる場所: Innsbruck, Austria
職業: blogger and real estate business
ウェブサイト: www.bling-bling-blogstyle.blogspot.com

リスト:
My Barbarpapa
My beloved Converse Chucks
Wedding Memories
A Gun :)
My Piggybank - Full of Money
Harddrive (with Photos, Memories, Important Documents)
Cookbook from my Granny ?
Breakfast At Tiffany's by Truman Capote
Hendrick's Gin
Leica D-Lux 4
Leica D-Lux 4 Case
Passport
Little "ship in a bottle"
Old Ring from my Mother
Heart Ring (gift from my mother-in-law)
Our Family Ring
Tiffany Necklace
Family Register
Our Wedding Rings
Ray Ban Sunglasses
Lipgloss
iPhone
Mini Sombrero
Keys
iPod
… last but not least my hubby and me ;)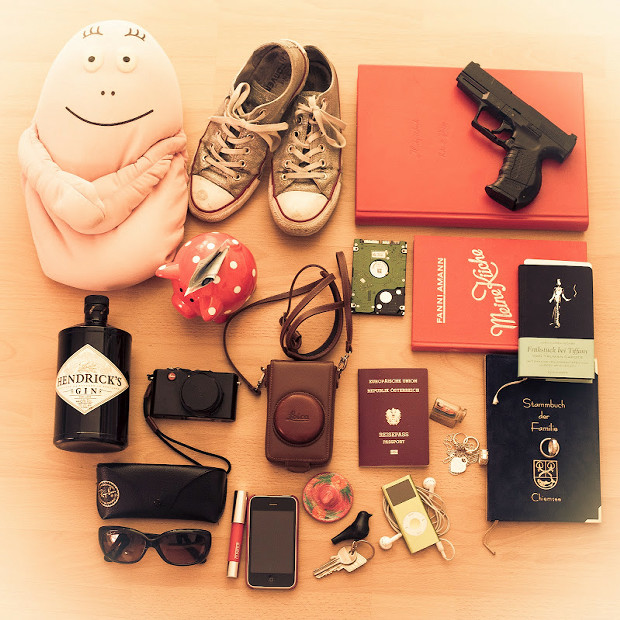 名前: Celine Villaneau
年: 19
住んでいる場所: London, UK
職業: Art Student
ウェブサイト: http://eni-art.blogspot.fr/

リスト:
What I would have taken :
My acoustic guitar
My mother's perfume, Dune Sun by Christian Dior
Wallet
Cigarettes
Banner lomography camera + album containing all my pictures
Macbook + hard drive
All my sketchbooks since 2009.
Most of my art tools. Pen, pencils, Trias, Posca, brushs

What I really took :
French passport
Canadian passport
Picture of my mother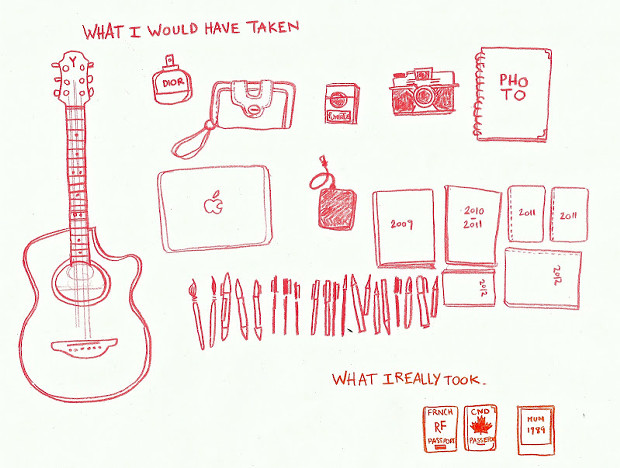 名前: Elaina Ellis
年: 22
住んでいる場所: Norfolk, VA
職業: Sports Photographer : Norfolk Tides

リスト:
First Pair of Rainbow flip flops
Ray-Ban sunglasses
Rolled up emergency cash
Favorite Christmas photo 1993
Ring Collection
Vintage Brownie Hawkeye Kodak Camera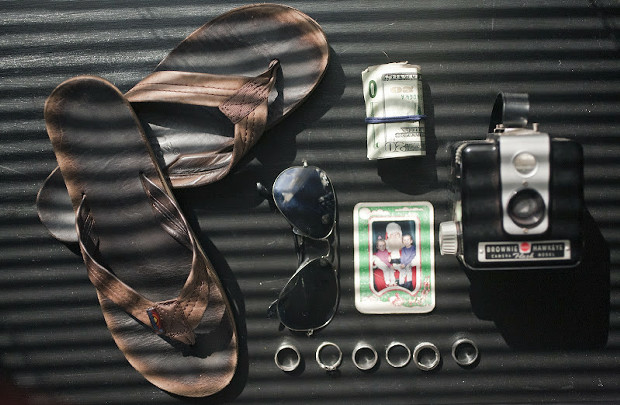 名前: Ines Correia
年: 18
住んでいる場所: Lisbon, Portugal
職業: Visual Communication student
ウェブサイト: http://www.flickr.com/photos/ines_correia/

リスト:
A box with pictures that I took
Praktica LTL2
Kodak Retinette 1A (my grandfather's camera)
My favorite shoes
My dearly loved necklaces
Green shirt that my mother gave me
A Paris snow globe
"The Dark Knight" signed poster
"Requiem for a dream" DVD (which is the movie that gave rise to my interest in cinema)
My movie bible: "Cinema Now" given by my brother
A notebook with my ideas
"Egyptology Manual" given by my mother when I younger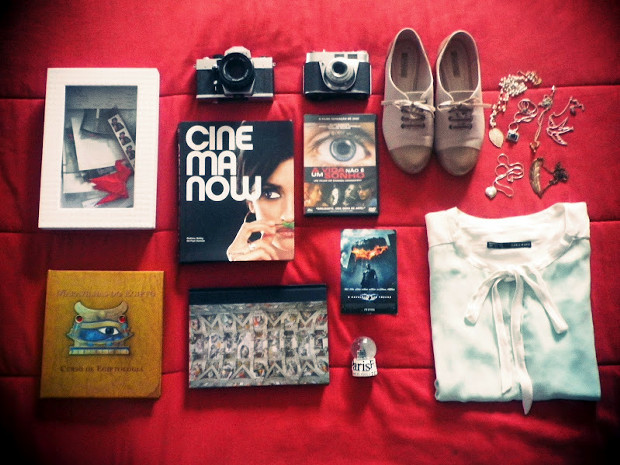 他にも様々な人の回答が公式サイトにて見られます。さて、あなたならどうしますか?

The Burning House

・関連記事
イランには24000人の忍者がいて、そのうちの3500人がくのいちであるという衝撃の事実 | BUZZAP!(バザップ!)

アーティストやデザイナーの「仕事机」と愛用するPCの「デスクトップ」を比較する | BUZZAP!(バザップ!)

不食を実践し、太陽光のみで生きようとしたスイス人女性が餓死 | BUZZAP!(バザップ!)

喉にシュッとすると一瞬でガツンと酩酊できて二日酔いにもならないアルコールスプレー | BUZZAP!(バザップ!)